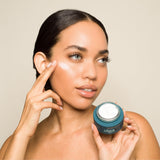 Pep-Revive Daily Moisturizer (formerly Intense Moisturizer)
Learn More
Conceptualized by Olga Lorencin | Formulated by John Garruto | Now in a 2 oz. jar!
---
Pep-Revive is a high-voltage moisturizing cream formulated to help revive dry, lackluster skin. This peptide-powered moisturizer works to smooth and firm the skin from within. Ingredients like vegan Squalene and Avocado Oil conduct intense moisture, while vitamin-rich Tomato Extract and Siberian Ginseng help soothe and protect against environmental stress, making the skin look effortlessly radiant & healthy. Warning: skin will appear plumper, tighter and supercharged with luminosity.
"My skin is transformed. I'm so moved and grateful for Olga."
— Paloma Garcia-Lee