Red Carpet Facial in a Box
If you know, you know. And you need to know. The Red Carpet Facial is Olga's signature professional-grade, at-home peel that will change your skin care routine for good. In fact, we challenge you to try it every day for two weeks—steam cleaning your pores during the ultimate skincare bootcamp.
Skin Type
All skin. Not for complexions prone to eczema, rosacea, and extreme sensitivity.
Problem
Dryness. Flaky skin. Uneven tone. Dry patches. T-zone. More congestion than usual. Makeup is not going on smoothly.
Results
Smooth, bright complexion with increased skin cell turnover. Reduces the appearance of wrinkles and pore size.
Spotlight On
Lactic and Malic Acid + Zinc Oxide + Copper Gluconate which will exfoliate, hydrate and refine your skin along with boosting collagen and building fibroblast.
In The Box
1.7 oz / 50 mL (Peel, Neutralizer); 2.5 oz / 75 mL (Mask) — approximately 14–16 treatments, depending on the exact amount of product that is being used.
Step 1: Peel. Begin with clean, dry, cool skin. Squeeze just enough peel into the bowl and use the brush to apply a thin layer until your face is evenly wet. Avoid proximity to the lips and eyes. Leave on for 1–3 minutes (starting with 1 minute and gradually building to 3 minutes). Depending on your skin type, you may or may not feel a tingling sensation as skin cells respond. While your peel is on, quickly rinse and dry your bowl and brush for the next step (never use detergents, just water). Note: On a scale of 1–10, if you experience the intensity of the peel as 8 or above, rinse your face with cool water and continue with Step 2.

Step 2: Neutralizer. Apply Step 2 directly over the peel with the brush, working it into the skin to activate a subtle fizzy sensation and deep pore cleansing. Depending on your skin type, you may or may not feel a quick flash of heat as you apply Step 2 directly over Step 1. After 30–60 seconds, remove any excess residue from the peel and neutralizer by gently patting the skin with a damp washcloth.

Step 3: Mask. Apply an even layer of the mask with your fingers or the brush (rinsing brush first) and massage vigorously into the skin. Let activate for 15 minutes. Rinse with lukewarm water. Follow with Olga Lorencin Lactic Acid Hydrating Serum for oily to normal skin, or Olga Lorencin Intense Moisturizer for dry skin.
Peel
Water (Aqua), Lactic Acid, Glycerin, Epilobium Angustifolium Flower/Leaf/Stem Extract, Butylene Glycol, Malic Acid, Arginine, Allantoin, Camellia Oleifera Leaf Extract, Hydroxyethylcellulose, Sodium Hydroxide, Tetrasodium EDTA, Phenoxyethanol, Ethylhexylglycerin, Potassium Sorbate.
Neutralizer
Water (Aqua), Aloe Barbadensis Leaf Juice, Sodium Bicarbonate, Glycerin, Butylene Glycol, Arginine, Allantoin, Hydroxyethylcellulose, Tetrasodium EDTA, Phenoxyethanol, Ethylhexylglycerin.
Mask
Water (Aqua), Kaolin, Glycerin, Zinc Oxide, Cetearyl Alcohol, Arachidyl Alcohol, Squalane, Butyrospermum Parkii (Shea) Butter, Polyacrylate-13, Saccharomyces Lysate Extract, Pikea Robusta Extract, Dipotassium Glycyrrhizate, Zinc Gluconate, Magnesium Aspartate, Copper Gluconate, Sodium Hyaluronate, Simmondsia Chinensis (Jojoba) Seed Oil, Camellia Oleifera Leaf Extract, Camellia Sinensis Leaf Extract, Chamomilla Recutita (Matricaria) Flower Extract, Glyceryl Polyacrylate, Behenyl Alcohol, Arachidyl Glucoside, Polyisobutene, Polysorbate 20, Ceteareth-20, Titanium Dioxide, Disodium EDTA, Phenoxyethanol, Ethylhexylglycerin, Potassium Sorbate, Fragrance (Parfum), Blue 1.
Customer Reviews
05/14/2020
Jackie L.
United States
Enjoying this facial!
My first time using this facial. On Day 6 of the 2 week challenge. On Day 4 I started noticing a difference in how my skin felt and looked. It's more glowy and feels smoother. I'm really excited about the end results. There is a sharp sting when you put in Step 2 but it goes away in 2-3 seconds and is somewhat satisfying that I can feel my skin reacting. I'm 42, tan skin with melasma on my cheeks. This peel hasn't caused any redness or irritation at all. Definitely recommend.
05/10/2020
Marina
United States
Best facial / mask on the market
Hands down, the best facial/mask on the market. It get's your skin into the best shape of its life. The acid is strong, the mask is SUPER soothing. My hyper sensitive skin goes from tomato red in the acid to angelic after the mask. I do it once a week in the evening. By morning (and after a good moisturizer that costs over 200$) my skin looks baby smooth. Best skin of my life in my 30s with this peel.
05/06/2020
Diedra D.
United States
05/04/2020
Corin N.
United States
Red Carpet Renewal
OMG! Yesterday I did the Red Carpet facial and I still cannot get over how bright & fresh my face looks. It was dull from being home bound during this corona virus. Now it looks like I went and got a facial. Feels so totally renewed and all the dead, dry skin is gone. It's softer and holding my moisturizer better now too so it feels hydrated! Love it!!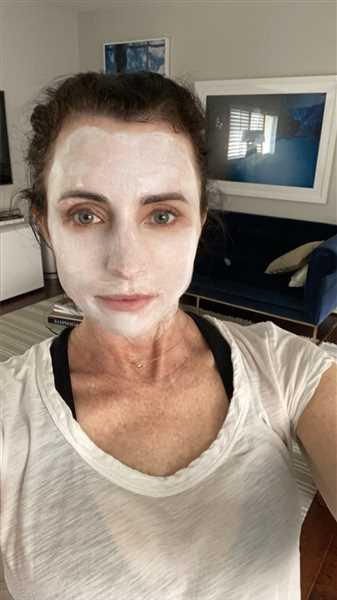 04/28/2020
Holly M.
United States
Amazing at home treatment!
I normally get monthly facials and in the wake of COVID 19 I needed something to get my skin exfoliated and glowing again. I will continue to do this treatment as frequently as possible- the results are amazing (reduced blackheads, smooth skin, reduction in fine lines and wrinkles, texture improvements and more). This is a MUST try product.